By Ted
Along with the revolutionary Computer Lib & Dream Machines Ted has published many other influential works.
About Ted
Ted Nelson the man and Ted's life and work have been examined extensively by other authors. Here is just a sampling.
Intertwingled

The Life and Work of Ted Nelson

2015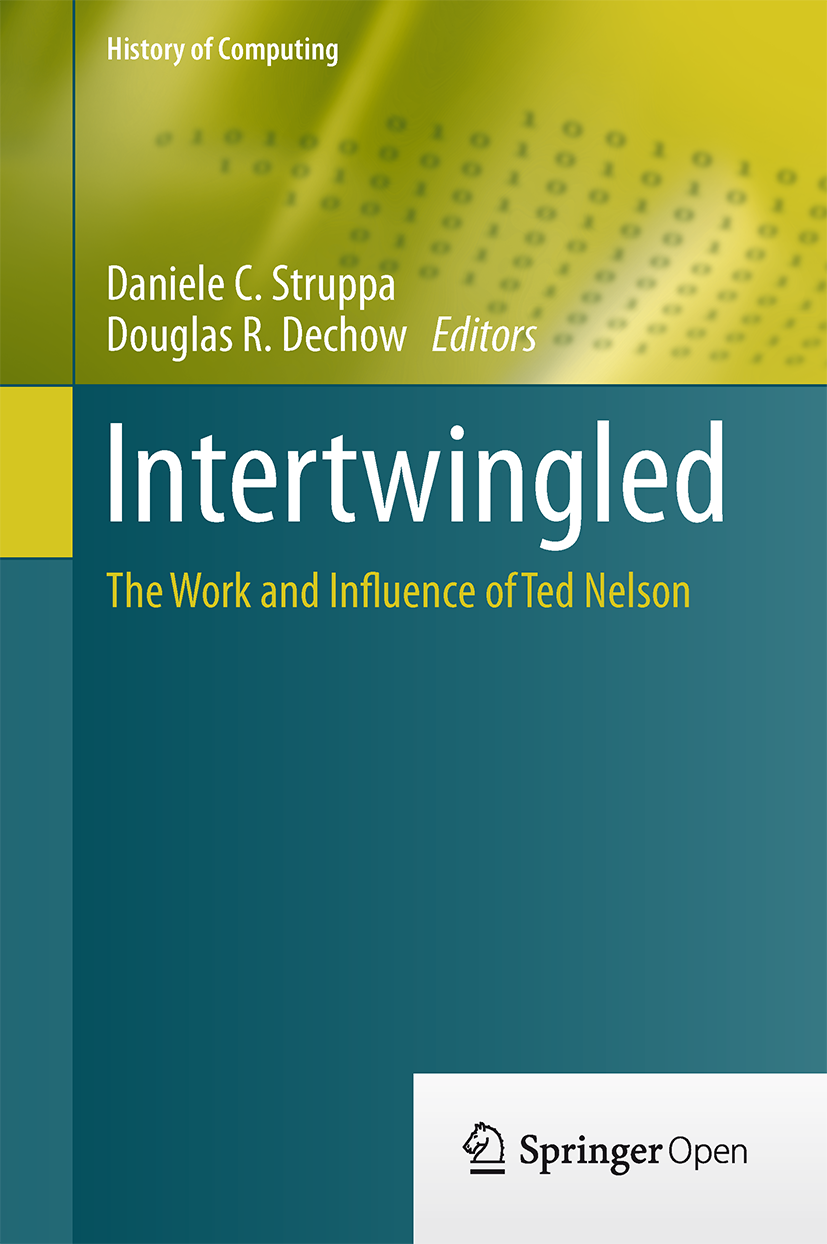 An anthology of tributes and analysis by a variety of scholars. Free download from Springer publishers. Edited from the proceedings of the "Intertwingled" conference held at Chapman University, April 2014.
"Ted Nelson"

A Critical (and Critically Incomplete) Bibliography, Henry Lowood

2015
For the proceedings of the April 14, 2014 conference "Intertwingled, The Life and Work of Ted Nelson", the infinitely valuable Stanford University archivist Henry Lowood compiled an exhaustive list of Ted's publications. If you are aware of an article or essay that is not in this bibliography, please
contact us
.
Dall'ipertesto al Web, Storia culturale dell'informatica
A cultural history of computer science with a focus on Ted's original hypertext theories and how they influenced modern social behavior.
The father of virtual reality and one of the world's most brilliant thinkers asserts that to fix our economy, we must fix our information economy. In this "... provocative, poetic, and deeply humane book," Lanier charts a path toward an information economy that rewards ordinary people for what they do and share, referencing Ted's Xanadu designs.
You Are Not a Gadget, A Manifesto
The father of virtual reality discusses the technical and cultural problems that have unwittingly risen from programming choices — such as the nature of user identity — that were "locked-in" at the birth of digital media and considers what a future based on current design philosophies will bring. References Ted's work.
"In Venting, a Computer Visionary Educates"

2009
Read at The New York Times
A review of Geeks Bearing Gifts by John Markoff, technology editor, The New York Times.
"The Babbage of the Web"

2000
The Economist
"Prof Nelson Talk Analysis P.R.I.D.E."
Lauren Wedeles, Vassar College
A review of Ted's radical first presentation to Vassar College after joining the faculty, about which Vernon Venable, chair of the philosophy department, said "He's a wildman, but I think he's onto something brilliant".